I love Wish.com. You may not have heard of it…or maybe you have. They sell a lot of stuff, really cheap. You only need to give up the expectation of a speedy or even a normal delivery time on most items.
With that being said, again, I Love Wish.com and because of that, I am constantly scouring the website for all those things I "need". Some of the stuff they sell though, is downright entertaining, just for the fact that they offer it.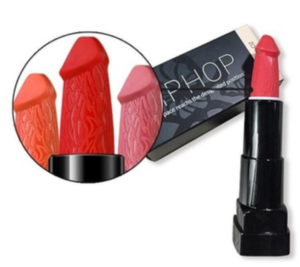 Take this little find I came across. It's called LipHop. Now, I don't know anything about this "brand", and I know nothing about this lipstick, but take a closer look. Do you notice anything about this particularly detailed lipstick? Now, I can tell you that I am intrigued, humored, and embarrassed all at the same time by this product. I feel intrigued enough by its novelty to buy it, humored by it because of its shape, and embarrassed that I am even considering any of this as a valid reason to purchase this lipstick.
But everything has its place in this life. This seems like the ideal type of gag-gift to buy "for a friend" who might be getting married, or maybe even divorced. A gag-gift, though, that is actually usable…if you aren't too embarrassed to whip it out in public.